Regular eye exams are an essential part of keeping your eyes healthy, but one of the most common questions we're asked is, "Will I be able to drive after my eye exam?"
The short and sweet answer? It depends.
We personalize our eye exam process to meet our patient's individual needs, and in some cases, we may need to dilate the pupil to get a comprehensive view of the eye and how we can support it. However, dilating your pupils can affect your vision for several hours, making driving unsafe.
But does everyone need their pupils dilated for their eye exam? And what exactly does a dilated eye exam help our doctors achieve?
Today, we're going to answer these questions as we take a look at dilated eye exams, what you can expect from them, and when they're necessary.
Of course, for personalized help maintaining your eye health and vision, please visit one of our full-service clinics for an eye exam. We're happy to keep our eyes on yours, so book your next appointment today!
What Are Dilated Eye Exams
The whole purpose of having an eye exam is to get a comprehensive look at your eye health and vision quality. From an exam, we can prescribe lenses, recommend treatments, and give valuable advice to help preserve your sight.
A huge part of getting the information we need is looking inside your eye through your pupils. While retinal imaging devices are incredibly helpful for detecting potential issues, we may also need to dilate your pupil to help us see more of your eye's internal structures.
We can dilate your pupil using special eye drops. Once we dilate your pupils, you may experience some minor symptoms like:
Blurry vision
Light sensitivity
Difficulty focusing
A light stinging sensation
Why Would You Need a Dilated Eye Exam?
If you're young and have no risk of developing an eye disease, dilating your pupils may not be necessary. However, we may dilate your pupils depending on:
Your age: The risk of developing several eye problems increases with age, and dilating your pupils can help us detect these issues before they affect your eyes.
Your overall health: Diabetes, smoking, and excessive alcohol consumption can significantly affect your eye health over time.
Your eye health: If you already have an eye disease or risk developing one, we may need to dilate your pupil to monitor the issue properly.
The reason for your eye exam: We may dilate your pupils if you're concerned about a specific issue with your eye health or vision.
What The Inside of Your Eye Tells Us
So if a dilated eye exam is to help us observe your eye health and search for potential issues, what structures are we looking at and which issues are we trying to detect?
Whether we dilate your pupil or not, we always take a detailed look at the parts of your eye supporting your vision, including your:
Retina
Retinal blood vessels
Macula
Optic disc
Fovea
Examining these structures can help us detect early signs of eye disease, sometimes even before you start experiencing symptoms. While there are numerous eye diseases and conditions that we can detect by examining the inside of your eyes, the most common include glaucoma, macular degeneration, and diabetic eye diseases.
Glaucoma
Glaucoma is a group of eye diseases that affect your optic nerve, connecting your eyes to your brain and transferring visual information to help you see.
There are a few different ways our team can help detect and diagnose glaucoma, but one of the most common is observing your optic disc (where the optic nerve connects to the eye) for issues. High intraocular pressure may also signify glaucoma, but we'll use tonometry techniques to measure these levels.
Macular Degeneration
Macular degeneration, also known as age-related macular degeneration or AMD, is a common eye disease many adults can develop as they age.
AMD affects the macula, the centre-most part of your retina that helps you use your central vision and see fine details. If you develop AMD, you may notice visual distortions or vision loss that can affect your ability to read, discern colours, or even recognize faces.
We can help detect AMD by examining your retina and looking for drusen or abnormal blood vessels.
Diabetic Eye Diseases
Diabetes, a common health concern in the country, can also increase the risk of several different eye diseases like diabetic retinopathy and diabetic macular edema.
If you have diabetes, we'll look for these issues by examining your retina, retinal blood vessels, and macula.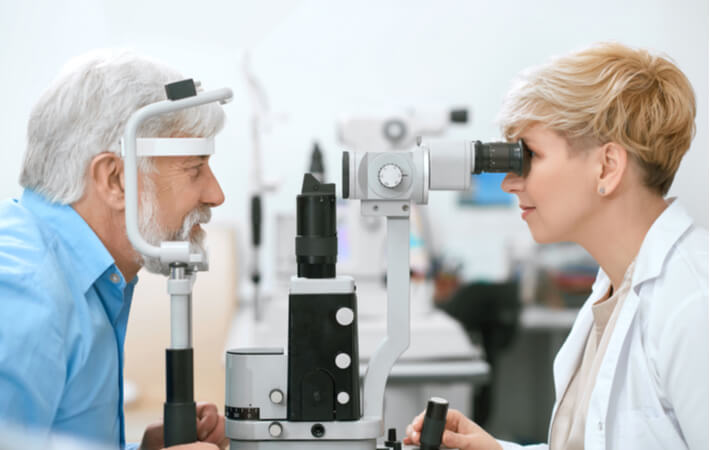 What You Should Do After a Dilated Eye Exam
If you're not already a patient of ours, please speak to our team about your eye health to see if we may need to dilate your pupils for your eye exam. We may dilate your pupils for every eye exam, or we may do it periodically depending on your eye health.
We'll let you know when you book your appointment if we may need to dilate your pupil. If we plan on dilating your pupil, please keep these tips in mind so you can keep yourself safe and your eyes comfortable after your eye exam:
Have a Plan for Alternate Transport if Needed
Many patients can safely drive after a dilated eye exam. Having said that, it's always a good idea to have a driver available just in case. Other options include taxi, Uber, and public transportation.
Avoid Direct Sunlight
If you can, please bring sunglasses to your dilated eye exam. If you don't have a pair or happen to forgot yours, all of our eyeDOCS Ottawa locations offer disposable sunglasses to patients at no charge.
Because your pupils are wider than normal, they won't be able to adjust their size and manage the amount of light that enters your eyes, leading to discomfort.
Don't Strain Your Eyes
We recommend giving your eyes time to relax after having a dilated eye exam. Because the effects can last for several hours, we recommend:
Not reading small print
Taking a few hours off work
Our Eye Doctors Are Ready to See You
Comprehensive eye exams are essential to managing your eye health and protecting yourself from numerous eye diseases and conditions. If dilating your pupils can help our team better serve your eyesight, we'll let you know before your eye exam so you can prepare for your appointment.
If you have any questions about your eye exam experience or would like to start your eye care journey, please book an appointment to see one of our doctors at any of our 6 Ottawa optometrist locations.
We're ready to set our sights on preserving your eye health and vision.