Eyeglasses: Bad to Wear Different Prescription Glasses?
Eyeglasses have been essential for vision correction for centuries. Although seeing more clearly is their primary purpose, glasses frames can also be a fashion statement. You may have multiple pairs to show off your collection of frames or a favourite pair with your signature look. Generally, when you have multiple pairs, they share the same prescription.
But what about wearing different prescriptions? The first known instance of wearing more than one prescription lens dates back to 1784 when Benjamin Franklin invented bifocals. Since then, we've come a long way and learned a lot more about protecting our eye health.
So, is it bad to wear more than one prescription? Truthfully, it depends. Let's take a closer look at why.
Prescription Updates
One reason you might be wearing 2 different prescription glasses is a prescription update. You might save an old pair as a "just in case." For example, you need reading glasses and recently updated your prescription, but you left your new pair at work! But you still have your old pair at home.
Using the older or less accurate prescription as a backup is unlikely to cause eye damage. Like trying on someone else's glasses, the prescription may not match your vision needs. Still, a temporary try-on won't affect your vision long-term.
But what if you lose your new prescription glasses immediately and decide to make do with your backup long-term—maybe months or a couple of years? Again, it won't damage your eyes, but you can experience uncomfortable symptoms, including:
Blurry vision
Eyestrain
Fatigue
Headaches
Multifocals
Multifocals are a type of prescription eyewear with 2 or more prescriptions. In this case, it's not only acceptable to wear 2 different prescriptions but recommended.
The crucial point to note is that the prescriptions are for different purposes. For example, bifocals have 2 focusing powers (2 different prescriptions) to correct 2 different distances. The upper half of your glasses may help with distance vision to help correct myopia (nearsightedness), while the lower half corrects close vision to correct presbyopia.
Both prescription sections should be up-to-date to correct vision accurately and aid visual comfort. The same is true for other multifocals, including trifocals and progressive lenses.
There are also multifocal lenses used in myopia control. The multiple sections don't correct multiple focusing distances, but they can help focus light to improve vision and slow myopia progression. Multifocal lenses for myopia are more widely available for contact lenses. However, eyeglasses for myopia management are being introduced, such as the Zeiss lenses.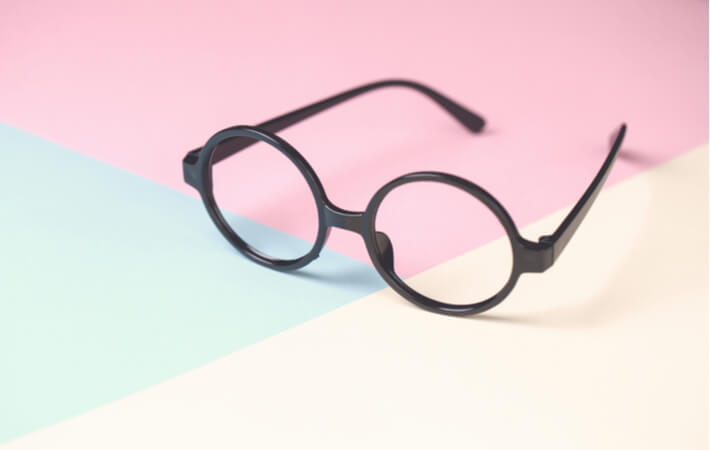 Separate Prescription Glasses
While multifocals combine 2 prescriptions into one pair of eyeglasses, what about wearing separate prescription glasses?
For example, you may have 2 refractive errors—such as myopia (nearsightedness) and presbyopia. Your glasses for myopia correct distance vision but don't help with blurry vision while reading. So you might choose to swap your distance glasses for reading glasses, or vice versa, depending on the task.
Wearing 2 different glasses for different vision problems will not harm your eyes. As long as the prescriptions are accurate, you're unlikely to experience any symptoms, such as headaches or eyestrain. However, some patients find the constant switching to be inconvenient. Patients may prefer the dynamic duo of glasses over contact lenses.
Eyeglasses & Contact Lenses
Swapping between 2 prescriptions for eyeglasses and contact lenses has similar outcomes to wearing 2 eyeglasses prescriptions. Both prescriptions should be accurate and kept up-to-date to maintain comfortable vision.
However, glasses combined with contacts can be more convenient than switching between 2 pairs of glasses, depending on your vision needs.
For example, consider someone who wears contact lenses for distance vision but uses reading glasses for near vision. They may wear their contact lenses during the day for distance vision due to encountering multiple distance-based tasks. By comparison, their close vision may not require as strong a prescription, or they may not experience as many close-vision tasks.
In that example, their primary prescription (contact lenses) is used consistently, but their secondary prescription (reading glasses) is used infrequently. They don't need to remove their contact lenses to pop on their reading glasses, so wearing 2 prescriptions is more convenient.
It's safe to wear glasses and contact lenses at the same time. Therefore, you don't need to remove your contacts to put on your glasses.
When a person has 2 different glasses for separate prescriptions, it's less convenient since you can't slip one pair over the other. As a result, you may squint to see rather than swap between eyeglasses.
Keep Your Prescription Updated
Even if you have 2 different pairs of glasses, wearing an accurate prescription helps maintain comfortable vision. Routine eye exams performed by an Ottawa optometrist help ensure your prescription is up-to-date. Our knowledgeable opticians and optometric assistants can ensure your lenses and fashionable frames meet your eye care expectations.
When you have questions about your eyewear or prescriptions, don't hesitate to contact our team at eyeDOCS. We're ready to support your eye health and vision needs. Book an appointment today!