Can You Get Laser Eye Surgery if You Have Dry Eyes?
Whether you can get laser eye surgery if you have dry eyes is a bit of a grey area. It depends on a couple of things, like how severe your dry eye syndrome is, its cause, and the type of laser surgery.
During your laser eye surgery consultation, your eye doctor will ask different questions about your eye health history. They will also likely perform some form of an eye examination. Then they can give you your treatment options and make their professional recommendation.
Symptoms of Dry Eye Syndrome
When discussing the potential of laser eye surgery with your optometrist, it's important you let them know if you have any dry eye symptoms. If you do, they will likely investigate further to confirm whether you do and pinpoint its cause.
Here are some possible symptoms you may experience with dry eye:
Scratchy eyes that feel like there's something in them
Watery, burning, and red eyes
Light sensitivity
Stringy mucus around or in the eye
Blurry vision
Eye strain
Discomfort when wearing contact lenses
A decline in your nighttime vision
Dry Eye Causes
According to a study published in the National Library of Medicine, researchers estimate that over 6 million Canadians suffer from chronic dry eye. Pinpointing the cause of your dry eye symptoms is the key to treating it effectively.
Ultimately dry eye is caused by decreased tear production or ineffective tears that evaporate too quickly. Some possible causes for this include:
Aging
Climate and season
Medication
Contact lenses
Meibomian gland dysfunction (MGD)
Lacking vitamin A
Not blinking enough
Allergies
Certain medical conditions, especially autoimmune disorders
Treating Dry Eye
Unfortunately, there is no magic bullet when treating dry eye because it can be caused by several things. After examining your eyes, your optometrists will likely be able to perform or recommend you try some of these things:
Eyelid cleaning: One common cause of dry eye is MGD. One way to potentially deal with it is through warm compresses and adequate eyelid cleaning. You can do this at home, but many optometrists offer in-office treatments like BlephEx or intense pulsed light (IPL) therapy that give similar results.
Eye drops: There are both over-the-counter (OTC) and prescription eye drops that do several things ranging from eye lubrication to reducing inflammation of your cornea. Once they've examined your eyes, your optometrist can recommend the best course of eye drops for you.
Changing diet: Because your eyes rely on oils from the meibomian glands to prevent tear evaporation, increasing your intake of omega-3 fatty acids can help.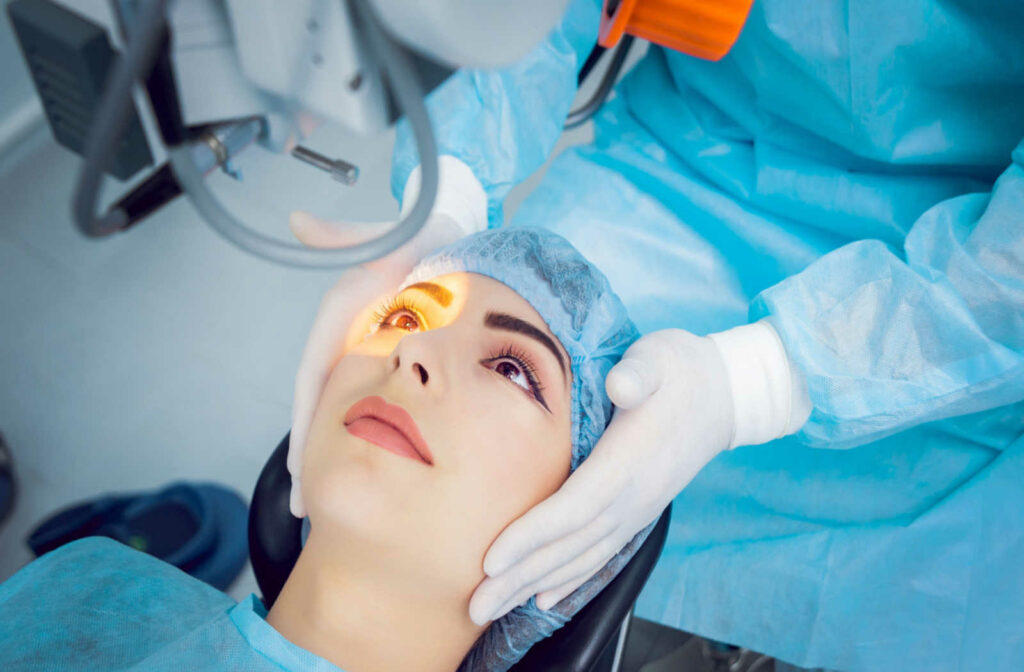 Laser Eye Surgery With Dry Eyes
One significant concern about getting laser surgery when you already suffer from chronic dry eye is that a common symptom of this surgery is dry eyes. This increase in symptoms can impact your healing time and how well your eyes recover from the surgery.
Another concern is that dry eye can increase the risk of eye infections if left untreated. In some cases, it can even damage the eye's surface. These concerns, coupled with the increased chance of aggravation of the condition, make eye surgery with dry eye syndrome riskier.
One of the criteria for laser eye surgery is that the patient has no significant dry eye. So, if you know you have dry eye but want laser eye surgery, it's worth talking to your eye doctor about it because there's still a chance you may be a candidate for the procedure.
Laser Surgery Alternatives
If, after checking your eyes, the optometrist doesn't recommend laser eye surgery such as LASIK, you still have some options for refractive surgery.
Ask your optometrist about these procedures:
SMILE: Small incision lenticule extraction is similar to LASIK, but because it's much less invasive, there is some leeway regarding dry eye. Depending on the severity of your dry eye symptoms, your eye doctor may suggest you're still a candidate for this surgery.
Refractive Lens Exchange: Also known as RLE, this procedure involves removing the natural intraocular lens from your eye and inserting an artificial one that corrects your vision. This gives you similar results to laser eye surgery and is minimally invasive.
Find Out More About Your Options
Suppose you're tired of wearing eyeglasses but are concerned that you won't be a candidate for laser eye surgery. In that case, the first step is seeing an eye doctor for an eye examination. If they can treat the dry eye symptoms, it shouldn't be an issue if you meet the other criteria for the surgery. Even if you can't get the condition under control, you're not out of options.
Give us a call at Ottawa Eye Docs and let the helpful and knowledgeable staff address your concerns. If you're interested, we're happy to book you for an eye surgery consultation with one of our optometrists.