If you wear glasses or contact lenses, you've probably considered buying prescription sunglasses at some point in time. But that lingering question in your mind always stops you:
"Are prescription sunglasses worth it for me?"
The answer isn't quite as simple as "yes" or "no" because there are many factors that play into whether or not prescription sunglasses are a good fit for you. We're going to look at some considerations in this article to help you decide if prescription shades are a good choice for your eyes.
Protecting Your Eyes
Prescription sunglasses provide clear vision and protection from harmful UV rays, especially during the summer months. When buying prescription sunglasses, look for 100% UV-blocking lenses, otherwise known as UV 400 sunglasses, for maximum protection.
Protecting your eyes from the sun doesn't only apply to sunny days. Even when the sky is overcast, UV rays are still present and can affect your eyes. Up to 80% of the sun's rays can pass through clouds, even if we can't see them. Your sunglasses also protect your eyes from debris, such as sand and dust.
Now, you might be thinking, "I don't need prescription sunglasses because I wear my contact lenses with regular sunglasses."
Contact lenses are a comfortable and safe option for people with refractive errors. However, they're not ideal for every type of activity, especially water sports. It's easy to lose your contacts while swimming, and getting water under your contact lenses can lead to an eye infection.
What About Transition Lenses?
Transitions lenses, also called photochromic lenses, have been around for many years. These lenses have a coating that darkens when exposed to UV light. Today, you can get transition lenses in a variety of colors.
There are some benefits and drawbacks to transition lenses. Depending on your needs, these could be a great option for you. We've outlined the pros and cons to help you determine if transition lenses are right for you:
Pros
Convenient (can be used inside & outside)
Continuous UV protection
Less likely to be lost
Available in many styles, colors, & most prescriptions
Can save you money (no need to buy 2 pairs)
Cons
Darken/lighten to varying degrees (depending on the brand)
Can take longer to adjust in cold climates
Don't darken as well in cars (windshields have some UV protection)
Transition lenses may not be the best fit for you, especially if you're quite active through the day. Unlike transition lenses, prescription sunglasses give you complete control over where and when you need UV protection.
Do People Still Use Clip-On Lenses?
Clip-on sunglasses are still available, but seem to be less popular as time goes on and other options continue to improve. Clip-on sunglasses are great when they work, but can be frustrating when they don't. Many people find clip-on sunglasses clunky and easy to lose.
Having prescription sunglasses eliminates the fidgeting and fussing of clip-ons.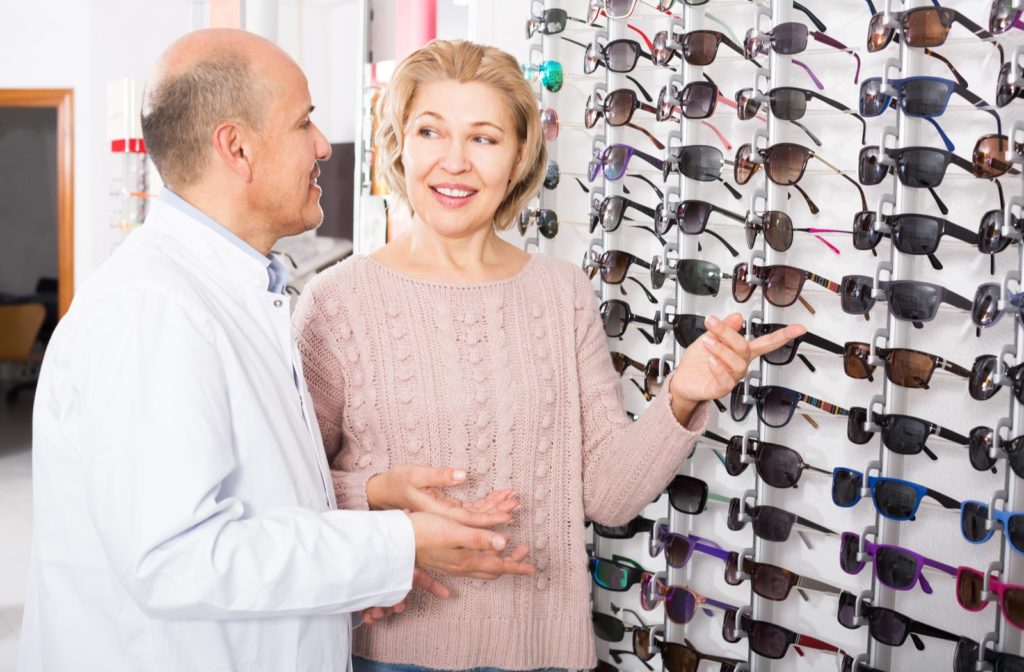 Benefits of Prescription Sunglasses
Protecting your eyes from UV rays and providing you with clear vision on sunny days are just 2 benefits of owning prescription sunglasses.
No Need to Stack Your Glasses
If you don't use contact lenses, you probably know how uncomfortable it can be wearing your eyeglasses outside on cloudless days. Prescription sunglasses give you the comfort you need outdoors and eliminate the need to put sunglasses over your regular frames.
Polarized Lenses
Many brands offer prescription sunglasses with polarized lenses which reduce glare and improve clarity. Polarized lenses are fantastic for driving and outdoor activities, such as rafting or hiking.
Fill Your Vision Gap
People with myopia (nearsightedness) may find prescription sunglasses especially useful. If you tend to not wear glasses during your day-to-day activities, prescription sunglasses fill that vision gap when you're outside.
Replace Your Old Sunglasses
Old prescription lenses may be outdated and wearing these sunglasses can put unnecessary strain on your eyes.
Check with your optometrist to see if you're in need of new sunglasses.
Give Your Eyes a Break
Most importantly, owning prescription sunglasses means that you can take a break from your contact lenses. You can still spend as much time in the sun, or under the clouds, as you want without worrying about protecting your eyes. Not to mention you'll be able to see clearly and comfortably.
Style Options & Cost
Most eyewear brands offer a variety of style choices for prescription sunglasses. Depending on your prescription, you might be able to choose regular frames to be fitted with UV protective lenses.
If you enjoy outdoor activities and exercise, you may want to consider a pair of impact-resistant performance sunglasses. These glasses are specifically designed to stay secure and comfortable during physical activity.
If you've got a basic prescription, you might be interested in exploring other lens features. Prescriptions sunglasses offer a variety of upgrades, such as anti-scratch and anti-reflective coating, mirrored finishes, and progressive lenses for presbyopia.
The frames of your sunglasses usually don't cost much more than non-prescription sunglasses. While you'll pay a bit more upfront for your prescription lenses, the long-term benefits of prescription sunglasses are almost always worth it.
What Next?
If you're ready to buy your prescription sunglasses, you can view our products online to see which brand would be best for you.
If you have any questions or concerns, don't hesitate to contact our team directly and we'll be happy to assist you.